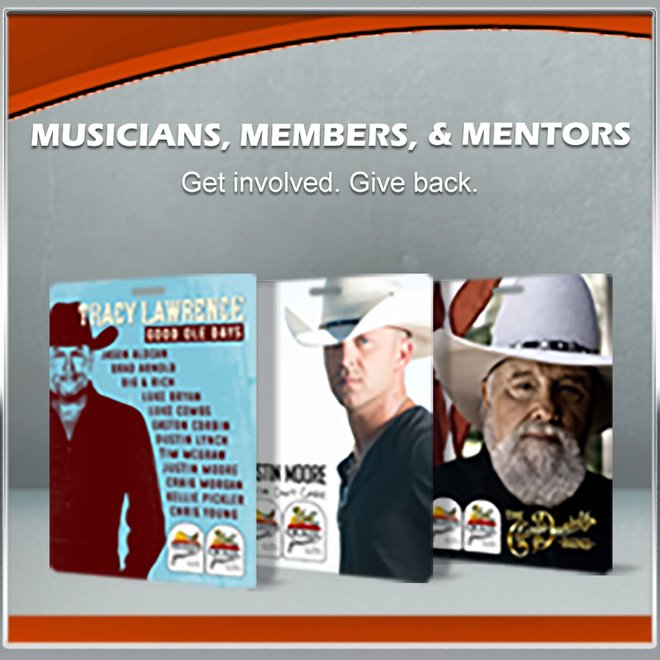 Pheasants Forever and Quail Forever has partnered with country music superstars Justin Moore, Charlie Daniels, and Tracy Lawrence to support organizational efforts to Recruit, Retain, and Reactivate (R3) the next generation of outdoorsmen and women. The 
Musicians, Members, and Mentors for PF/QF campaign
 offers upland supporters an interactive souvenir featuring each artist's new full album, tour pics, videos and exclusive content, with a portion of proceeds from each sale benefitting youth programs of "The Habitat Organization." The artists are members of Pheasants Forever and Quail Forever, hunter conservationists and mentors.
"The outdoor lifestyle is an important part of country music and to that end, we're glad to have the support of legends in the industry including Justin Moore, Charlie Daniel's, and Tracy Lawrence as we strive to positively impact youth conservationists of the future," stated Chris Kalis, Pheasants Forever and Quail Forever's director of corporate partnerships.
Proceeds from the Musicians, Members, and Mentors for PF/QF promotion will be directed at Pheasants Forever and Quail Forever's signature effort to actively recruit conservation leaders for the future – the No Child Left Indoors® Initiative. This comprehensive strategy focuses on providing opportunities for youth and their families to share outdoor traditions through the following avenues: Forever Shooting Sports Program, Youth Pollinator Habitat Program, and the National Youth Leadership Council. Combined, these programs impacted more than 200,000 people last year thanks to the efforts of PF/QF chapters, introducing them to shooting sports, hunting, and the outdoor lifestyle throughout the United States.
SUPPORT MUSICIANS, MEMBERS, AND MENTORS FOR PF/QF:
Select members-only, limited-edition albums online at www.songsforever.org and your chance to win:
An autographed shotgun or meet & greet concert tickets
A full album from the artist plus a bonus album
Exclusive videos from the artist
Exclusive pics (backstage and tour pics)
Members only discounts on the artists merchandise (hats, t-shirts)
An autographed guitar, and tickets to see the artist near the winner
Plus, each artist will make a donation to PF/QF on your behalf
In addition to providing a donation to Pheasants Forever and Quail Forever youth programs, Justin Moore and Tracy Lawrence will participate in a youth shooting event in 2018 to further mentor and engage youth in the outdoors.
Please follow and like us: